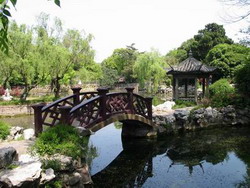 The mesmerising city of Wuxi was built on the shores of the Taihu Lake over three thousand years ago. The rich beauty of the surrounding forests and lakes gives a refreshing contrast to the urban landscape. Located very close to the city of Shanghai, Wuxi is a tourist favourite. It is a city with rich traditions and cultural landmarks. The night life is active and the local cuisine delightful. The shopping can be a tad expensive, but most come down to lay back, relax and take in the amazing views of the Taihu Lake, from the parks of Yuantouzhu peninsula.
Taihu Lake is the third largest freshwater lake in China. The lake has forty eight islets, with many more peaks and peninsulas, breaking up the otherwise continuous stretch of water. Of all the islets and peninsulas, Yuantouzhu is probably the most popular. Yuantouzhu literally means "the Head of the Dragon Turtle", a sobriquet given the peninsula because of the way it projects into Lake Taihu. The park was designed to augment the beauty around it and not to create an artificial space. So the parks many ponds, pavilions and bridges blend into the scenery.
The most gorgeous part of the park is at the tip of the peninsula. You can find elaborate calligraphy carved into rocky cliffs, ornamental ponds brimming with lotus flowers and gentle causeways extending over the placid waters. The two sides of the peninsula offer different views. On one side you can see lush, green coastlines and on the other side, an uninterrupted vista of the lake extending towards the horizon. The best time to visit is during spring when the cherry trees bloom adds shades of pink and white to the areas sparkling blues and greens.
You can even opt to take a boat ride along the lake. Nature lovers and tourists wanting to unwind will not be disappointed by the breathtaking landscape the city has to offer, or the local cosine or the terrific places to stay. Visitors looking for a
5 star hotel Wuxi
would enjoy staying at the Millennium Wuxi. It is located a mere 10 minute drive from the airport. With a wonderful spa and excellent recreational facilities, the
Wuxi hotel
is geared to help visitors shed all their worries. The best part is unwinding at the hotels Lobby Lounge, after an exciting day out in the city.