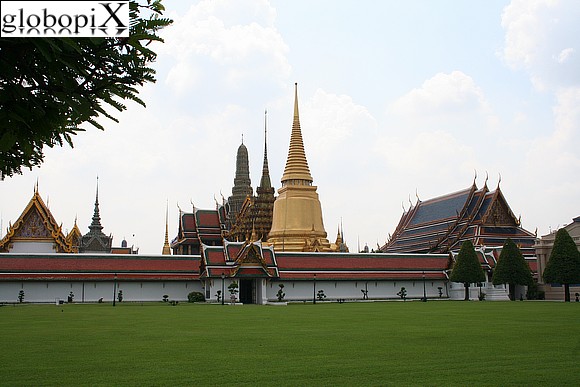 Located in Phra Nakhon district, Bangkok, Thailand, the Wat Pho Buddhist temple is popularly known as the Temple of the Reclining Buddha. Built as a restoration of a former temple on the same site, the complex of Wat Pho temple comprises of two walled compounds, in one of which lies the reclining Buddha. Deemed to be the largest temple in Bangkok, it is located just behind the charming Temple of Emerald Buddha. Holding the honour of having the most number of Buddha images in the country, as well as Thailand's largest reclining Buddha image, the temple houses a working Buddha monastery with a school and monks in residence.
The temple complex features entrances on all four of its sides whilst large Chinese warriors flank the doorways. The outside of the temple is also lined with several Chinese statues reflecting the Chinese influence of the period of King Rama III's reign.
The site was a centre for traditional Thai medicine and education prior to the construction of the temple. Plaques emblazoned with medical texts were positioned around the temple during its restoration in the reign of King Rama III. A miniature raised garden is adjacent to the compound housing the reclining Buddha.
The imposing reclining Buddha statue in the Wat Pho temple has a length of nearly 46 metres and is covered in gold leaf. Delicately decorated in mother-of-pearl inlay, the feet of the Buddha image are adorned with 108 auspicious scenes in Indian and Chinese styles.
The temple is an ideal place to experience a traditional Thai massage. The massage is considered to be somewhat different from the other types of therapeutic massage as rather than being relaxing, it tends to be invigorating. The massage incorporates yoga style postures to help improve blood circulation and relieve stress.
Anantara Baan Rajprasong, Bangkok presents a desirable choice of accommodation for the travellers in search of Bangkok serviced apartments. Set amidst lush greenery and chic restaurants, this exceptional hotel grants unparalleled short and long term stays with an array of elegant Bangkok serviced suites. Boasting an ideal location in the city's most exclusive neighbourhood, the hotel caters to both leisure and business travellers.